Lithium polymer battery(also called polymer lithium ion battery,or lipo battery,li-polymer, PLB), is a lithium ion battery that uses solid electrolyte while another one is using liquid electrolyte, whose name is Liquified lithium ion battery(Li ion,LIB). they have same anode and cathode materials, the anode material can be LiCoO2,LiMn2O4,NiCoMn, the cathode can be graphite. they also have same work way, the difference is just the electrolyte.


Advantages

1-High cell voltage, 3.7V is much higher than NiMn and Ni-Cd battery 1.2V.
2-Higher energy density, twice of Ni-Mh and Ni-Cd.
3-Low self discharge rate,about 1%.
4- Long cycle life, 500 times.
5- No memory effects, easy to use.
6-Great safety performance. With soft aluminum foil package instead of metal one, even in case of safety problem, lithium polymer battery can only swell instead of explode or fire.
7-Thin and thinner. it can be made to be ultra thin, so it can be embedded into credit cards, and other thin devices.
8-Light weight. With aluminum foil shell, it can have at least 25% less weight than same capacity liquid electrolyte lithium ion battery in aluminum case.
9-Higher capacity. Its has 5%~15% more capacity than aluminum lithium ion battery, more and more mobile phones are using lithium polymer battery.
10-Low interior impedance, lithium polymer battery cell has smaller impedance than liquid battery cell, now Padre polymer battery cell can have less than 35mΩ, it prolonged mobile phone work time by greatly reducing self discharge power, high rate type lithium polymer battery can support big current, it makes it best power solution for RC models, Padre high rate polymer battery now can reach 50C continuous discharge rate, and max 70C peak rate.
11-Customized shape. Padre can customize the battery with flexible thickness, length, width and shape according to various equipment particular requirements.
12-Good discharge performance. Lithium polymer battery uses solid electrolyte, this makes it have more stable discharge and higher platform than liquid lithium ion battery.

Applications
High C-rate series

: For radio control models, auto jump starters and UAVs for aerial photography, etc.

Digital series

: For 3C consumer electronics such as tablets, smart phones, wireless devices and power banks, etc.

Power serires

: For electric bicycles, electric motorcycles, e-scooters, energy storage, Grid communication equipments and UPS, etc.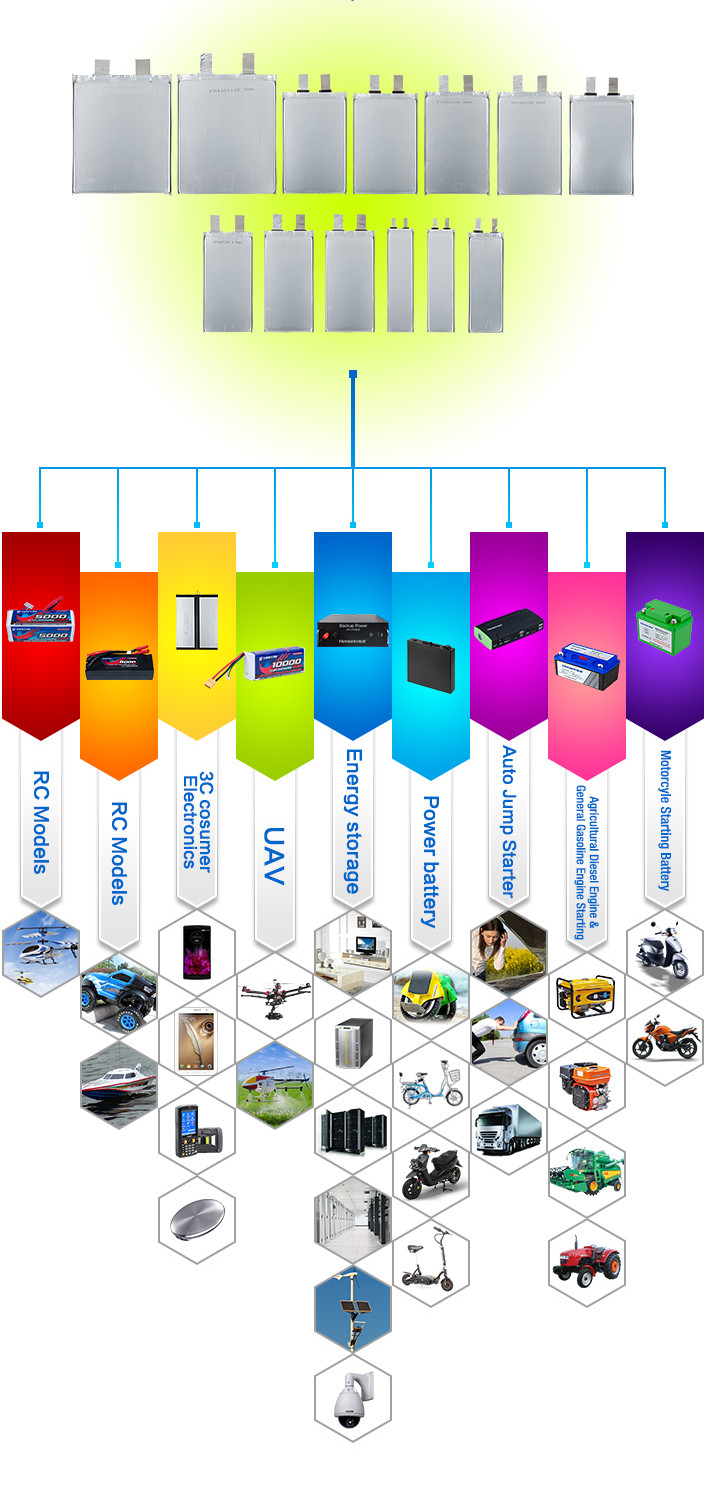 Lithium polymer battery Specification table
Model
Capacity (mAh)
Impendance(mΩ)
voltage(V)
size
weight(g)
thickness(mm)
width(mm)
high (mm)
PL183535
140
≤240
3.7
1.8
34.5
35.5
3.6
PL023759
350
≤120
3.7
2
36.5
58.5
10
PL022040
95
≤250
3.7
2
19.5
39.5
3.1
PL212535
95
≤300
3.7
2.1
24.5
34.5
3.6
PL222624
80
≤300
3.7
2.2
25.5
23.5
1.8
PL242025
75
≤240
3.7
2.4
20.5
24.5
1.8
PL243040
230
≤180
3.7
2.4
30.5
40
4.4
PL243048
280
≤180
3.7
2.4
30.5
48
6
PL243343
280
≤120
3.7
2.4
33
42.5
6.4
SY-PL243040
190
≤180
3.7
2.4
29.5
39.5
5.2
PL252735
185
≤180
3.7
2.5
27
34.5
4.2
PL253048
300
≤180
3.7
2.5
30.5
48
6.2
PL253169
450
≤90
3.7
2.5
30.5
68.5
7.8
PL253820
130
≤180
3.7
2.5
37.5
19.5
2.2
PL252734
180
≤180
3.7
2.5
27
33.5
4
PL253343
280
≤120
3.7
2.5
32.5
42.5
6.4
PL255468
850
≤60
3.7
2.5
53.5
67.5
18.1
PL265589
1200
≤60
3.7
2.6
54.5
88.5
24.2
PL264040
330
≤120
3.7
2.6
39.5
39.5
8.1
PL283048
350
≤120
3.7
2.8
30
47.5
6.4
PL284045
455
≤90
3.7
2.8
39.5
44.5
12
PL284050
510
≤90
3.7
2.8
40
49.5
12.2
PL031549
170
≤150
3.7
3
14.5
48.5
4.8
PL031015
15
≤900
3.7
3
9.5
14.5
1
PL031020
35
≤600
3.7
3
9.5
20.5
1.2
PL031030
60
≤600
3.7
3
9.5
29.5
1.8
PL031055
130
≤180
3.7
3
9.5
54.5
4.4
PL031125
55
≤600
3.7
3
10.5
24.5
1.4
PL031820
65
≤600
3.7
3
17.5
19.5
2
PL032025
100
≤300
3.7
3
19.5
24.5
3
PL032030
130
≤240
3.7
3
19.5
29.5
3
PL032033
140
≤240
3.7
3
19.5
32.5
3.2
PL032035
150
≤240
3.7
3
19.5
34.5
3.6
PL032225
110
≤300
3.7
3
21.5
24.5
3
PL032240
210
≤240
3.7
3
21.5
39.5
5.4
PL032248
250
≤180
3.7
3
21.5
47.5
6
PL032324
110
≤300
3.7
3
22.5
23.5
3
PL032333
170
≤240
3.7
3
22.5
32.5
3.8
PL032535
200
≤180
3.7
3
24.5
34.5
4.2
PL032540
245
≤120
3.7
3
24.5
39.5
6.2
PL033035
230
≤180
3.7
3
29.5
34.5
4.6
PL033040
300
≤90
3.7
3
29.5
39.5
6.4
PL033045
350
≤90
3.7
3
29.5
44.5
7.8
PL033048
380
≤120
3.7
3
30
47.5
6.8
PL033449
440
≤90
3.7
3
33.5
48.5
9.4
PL033545
400
≤90
3.7
3
34.5
44.5
9
PL033759
600
≤90
3.7
3
36.5
58.5
12.2
PL034050
540
≤90
3.7
3
40
49.5
10.2
PL034260
690
≤60
3.7
3
41.5
59.5
15.4
PL035060
850
≤60
3.7
3
49.5
59.5
18
PL034045
480
≤90
3.7
3
39.5
44.5
10.1
PL033542
380
≤90
3.7
3
34.5
41.5
8
PL031035
75
≤600
3.7
3
9.5
34.5
1.8
PL033440
345
≤90
3.7
3
33.5
39.5
7.1
PL031218
35
≤500
3.7
3
11.5
18.5
1.3
PL031220
40
≤500
3.7
3
11.5
20
1.4
PL033954
570
≤90
3.7
3
38.5
53.5
12
PL032530
170
≤120
3.7
3
24.5
29.5
3.6
PL321020
45
≤600
3.7
3.2
9.5
20.5
1.4
PL321233
90
≤300
3.7
3.2
11.5
32.5
2.2
PL323450
500
≤90
3.7
3.2
33.5
49.5
10.2
PL323545
450
≤90
3.7
3.2
34.5
44.5
9.6
PL323040
340
≤90
3.7
3.2
29.5
39.5
7.3
PL323759
650
≤90
3.7
3.2
36.5
58.5
13.7
PL3230160
1500
≤60
3.7
3.2
29.5
159.5
30.1
PL332230
160
≤240
3.7
3.3
21.5
29.5
3.8
PL332248
280
≤120
3.7
3.3
21.5
47.5
6.4
PL332535
230
≤180
3.7
3.3
24.5
34.5
4.6
PL333434
345
≤90
3.7
3.3
33.5
33.5
7.2
PL334340
520
≤90
3.7
3.3
42.5
39.5
10.8
PL335280
1400
≤60
3.7
3.3
51.5
79.5
27
PL344045
560
≤90
3.7
3.4
39.5
44.5
12
PL352025
130
≤240
3.7
3.5
19.5
25
3.2
PL352120
100
≤300
3.7
3.5
20.5
20.5
3
PL352852
460
≤90
3.7
3.5
27.5
51.5
8.6
PL353040
380
≤90
3.7
3.5
29.5
39.5
8.4
PL353440
440
≤90
3.7
3.5
33.5
39.5
9.6
PL353738
450
≤90
3.7
3.5
36.5
37.5
11.2
PL353852
650
≤90
3.7
3.5
37.5
51.5
14
PL355085
1550
≤45
3.7
3.5
49.5
84.5
30.2
PL354050
660
≤80
3.7
3.5
39.5
49.5
13.7
PL352525
160
≤120
3.7
3.5
24.5
24.5
4.1
PL356381
1800
≤45
3.7
3.5
62.5
80.5
35.2
PL356065
1400
≤60
3.7
3.5
59.5
64.5
26.9
PL356070
1500
≤60
3.7
3.5
59.5
69.5
28.9
PL352030
150
≤180
3.7
3.5
19.5
29.5
4
PL351121
50
≤380
3.7
3.5
10.5
20.5
1.5
PL362530
220
≤120
3.7
3.6
24.5
29.5
5.2
PL361225
70
≤300
3.7
3.6
11.5
24.5
2
PL361223
65
≤300
3.7
3.6
11.5
22.5
1.9
PL364445
670
≤60
3.7
3.6
43.5
44.5
13.9
PL363745
550
≤90
3.7
3.6
36.5
44.5
11.7
PL364460
980
≤60
3.7
3.6
43.5
59.5
18.6
PL373759
770
≤60
3.7
3.7
36.5
58.5
15.8
PL381725
115
≤300
3.7
3.8
16.5
24.5
3
PL383040
420
≤90
3.7
3.8
29.5
39.5
9
PL384040
590
≤90
3.7
3.8
39.5
39.5
11.8
PL383450
640
≤90
3.7
3.8
33.5
49.5
12.1
PL382535
290
≤180
3.7
3.8
24.5
34.5
6.3
PL384260
980
≤60
3.7
3.8
41.5
59.5
17.2
PL385068
1300
≤60
3.7
3.8
49.5
67.5
25.4
PL385689
1800
≤45
3.7
3.8
55.5
88.5
37.3
PL385689
1800
≤45
3.7
3.8
55.5
88.5
37.3
PL384045
640
≤90
3.7
3.8
39.5
44.5
13.4
PL382528
200
≤180
3.7
3.8
24.5
27.5
5.1
SY-PL396090
2100
≤45
3.7
3.9
59.5
89.5
41.5
PL041225
80
≤300
3.7
4
11.5
24.5
2
PL041235
130
≤300
3.7
4
11.5
34.5
2.8
PL041430
130
≤300
3.7
4
13.5
29.5
3
PL041730
150
≤300
3.7
4
16.5
29.5
3.4
PL041936
220
≤150
3.7
4
18.5
35.5
4.2
PL042025
150
≤180
3.7
4
19.5
25.5
3.4
PL042030
190
≤180
3.7
4
19.5
29.5
4
PL042035
230
≤120
3.7
4
19.5
34.5
5.4
PL042040
280
≤120
3.7
4
19.5
39.5
6.6
PL042248
390
≤120
3.7
4
21.5
47.5
7
PL042324
155
≤240
3.7
4
22.5
23.5
3.6
PL042530
260
≤120
3.7
4
24.5
29.5
6
PL042540
370
≤90
3.7
4
24.5
39.5
8.4
PL043030
310
≤90
3.7
4
29.5
29.5
7.2
PL043035
390
≤90
3.7
4
29.5
34.5
7.6
PL043040
450
≤90
3.7
4
29.5
39.5
9.2
PL043745
630
≤90
3.7
4
36.5
44.5
13.4
PL043759
870
≤60
3.7
4
36.5
58.5
17
PL044040
620
≤90
3.7
4
39.5
39.5
12.4
PL044260
1050
≤60
3.7
4
41.5
59.5
21.2
PL045060
1200
≤60
3.7
4
49.5
59.5
21.4
PL0430160
2100
≤60
3.7
4
29.5
155.5
41.4
PL0460113
2900
≤45
3.7
4
59.5
112.5
51.5
PL042022
120
≤150
3.7
4
19.5
21.5
3.4
PL041944
290
≤150
3.7
4
18.5
43.5
6.7
PL041020
50
≤500
3.7
4
9.5
20.5
1.5
PL045878
1820
≤60
3.7
4
57.5
77.5
34.4
PL041120
55
≤500
3.7
4
10.5
20
1.7
PL044443
750
≤60
3.7
4
43.5
42.5
14.8
PL044445
750
≤60
3.7
4
43.5
44.5
15.5
PL042033
210
≤120
3.7
4
19.5
32.5
4.9
PL041222
70
≤300
3.7
4
11.5
21.5
1.9
PL041733
180
≤110
3.7
4
16.5
32.5
3
SYPL043759
830
≤60
3.7
4
36.5
58.5
17.1
SY-P044559
1000
≤60
3.7
4
44.5
58.5
20.8
SY-PL0470100
2850
≤45
3.7
4
69.5
99.5
55.3
SY-PL045085
1600
≤60
3.7
4
49.5
84.5
33.5
SY-PL045878
1700
≤50
3.7
4
57.5
77.5
35.7
SY-PL045878
1700
≤50
3.7
4
57.5
77.5
35.7
SY-PL045075
1500
≤60
3.7
4
49.5
74.5
29.5
PL041619
80
≤300
3.7
4
15.5
18.5
2.3
PL414050
840
≤60
3.7
4.1
39.5
49.5
16
PL416781
2450
≤45
3.7
4.1
66.5
80.5
43.9
PL421516
50
≤600
3.7
4.2
15
15.5
1.6
PL425165
1460
≤60
3.7
4.2
50.5
64.5
30.2
PL4273135
4400
≤45
3.7
4.2
72.5
134.5
81
PL425085
1900
≤45
3.7
4.2
49.5
84.5
35.1
PL433440
550
≤90
3.7
4.3
33.5
39.5
11
PL433455
800
≤60
3.7
4.3
33.5
54.5
15.7
PL451225
95
≤300
3.7
4.5
11.5
25
2
PL451420
90
≤300
3.7
4.5
13.5
20.5
2
PL451733
210
≤240
3.7
4.5
16.5
32.5
4.6
PL452530
300
≤120
3.7
4.5
24.5
29.5
6.4
PL453045
600
≤90
3.7
4.5
29.5
44.5
11.8
PL453448
740
≤90
3.7
4.5
33.5
47
14
PL454040
720
≤90
3.7
4.5
39.5
39.5
13.8
PL456263
1950
≤60
3.7
4.5
61.5
62.5
36.8
PL454560
1250
≤60
3.7
4.5
44.5
59.5
27.7
PL453759
1000
≤60
3.7
4.5
36.5
58.5
19.3
PL451015
30
≤900
3.7
4.5
10
14.5
1.3
PL456065
1900
≤60
3.7
4.5
59.5
64.5
31.6
PL454260
1150
≤60
3.7
4.5
41.5
59.5
21.6
PL453040
500
≤90
3.7
4.5
29.5
39.5
10.3
PL451220
75
≤300
3.7
4.5
11.5
20
2.1
PL451215
40
≤500
3.7
4.5
11.5
14.5
1.4
PL452025
160
≤180
3.7
4.5
19.5
24.5
4.2
PL452540
400
≤90
3.7
4.5
24.5
39.5
8.5
PL455570
1800
≤60
3.7
4.5
54.5
69.5
34.1
PL451240
90
≤180
3.7
4.5
11.5
39.5
2.4
PL451240
90
≤300
3.7
4.5
11.5
39.5
2.3
PL461020
55
≤600
3.7
4.6
9.5
20.5
1.6
PL462030
225
≤120
3.7
4.6
19.5
29.5
5.8
PL461549
280
≤110
3.7
4.6
14.5
48.5
6.5
PL464048
900
≤60
3.7
4.6
39.5
47.5
17.3
PL471030
90
≤300
3.7
4.7
9.5
29.5
2.6
PL481222
85
≤300
3.7
4.8
11.5
21.5
2
PL482030
240
≤120
3.7
4.8
19.5
29.5
5
PL481556
380
≤120
3.7
4.8
14.5
55.5
7.7
PL051220
80
≤300
3.7
5
11.5
20
1.8
PL051223
95
≤300
3.7
5
11.5
22.5
2.2
PL051235
160
≤300
3.7
5
11.5
34.5
4.8
PL052020
150
≤240
3.7
5
19.5
19.5
3.4
PL052030
260
≤120
3.7
5
19.5
29.5
5.2
PL052248
500
≤60
3.7
5
21.5
47.5
8.8
PL052324
220
≤120
3.7
5
22.5
23.5
6
PL052530
330
≤120
3.7
5
24.5
29.5
7
PL053040
570
≤90
3.7
5
29.5
39.5
11.6
PL053455
970
≤60
3.7
5
33.5
54.5
18
PL053759
1150
≤60
3.7
5
36.5
58.5
18.4
PL054050
1000
≤60
3.7
5
39.5
49.5
18.8
PL052025
200
≤120
3.7
5
19.5
24.5
4.1
PL052970
1050
≤60
3.7
5
28.5
64.5
21
PL053048
720
≤90
3.7
5
30
47.5
13.7
PL053055
500
≤80
3.7
5
29.5
34.5
10.2
PL052535
400
≤90
3.7
5
24.5
34.5
8.5
PL051030
100
≤200
3.7
5
9.5
29.5
2.7
PL055151
1350
≤60
3.7
5
50.5
50.5
25.5
PL053646
840
≤60
3.7
5
35.5
45.5
16.2
SYPL052248
480
≤60
3.7
5
21.5
47.5
10.2
PL055165
1800
≤60
3.7
5
50.5
54.5
27.5
SY-PL053759
1050
≤60
3.7
5
36.5
58.5
21.4
PL055060
1600
≤60
3.7
5
49.5
59.5
29.5
PL0576100
4250
≤40
3.7
5
75.5
99.5
75.1
SY-PL052248
480
≤90
3.7
5
21.5
47.5
10.4
PL525143
1170
≤60
3.7
5.2
50.5
42.5
21.4
PL533759
1250
≤60
3.7
5.3
36.5
58.5
21.8
PL544483
2170
≤45
3.7
5.4
43.5
82.5
41.6
SY-PL547193
3900
≤45
3.7
5.4
70.5
92.5
70.4
PL5450122
3800
≤45
3.7
5.4
49.5
121.5
65
PL555143
1250
≤60
3.7
5.5
50.5
42.5
23.4
PL555689
3200
≤45
3.7
5.5
55.5
88.5
60.5
PL551230
150
≤150
3.7
5.5
11.5
29.5
3.6
PL554045
1000
≤60
3.7
5.5
39.5
44.5
19.3
PL553450
960
≤60
3.7
5.5
33.5
49.5
18.2
PL061220
100
≤300
3.7
6
11.5
20
2
PL062030
300
≤120
3.7
6
19.5
29.5
6.6
PL062540
550
≤90
3.7
6
24.5
39.5
11.4
PL063040
690
≤90
3.7
6
29.5
39.5
13.2
PL0637102
2560
≤45
3.7
6
36.5
101.5
45.8
PL064560
1680
≤45
3.7
6
44.5
59.5
32.6
PL066065
1800
≤60
3.7
6
59.5
64.5
44
PL062070
845
≤60
3.7
6
19.5
69.5
16
PL061430
200
≤120
3.7
6
13.5
29.5
4.8
PL063040
690
≤90
3.7
6
29.5
39.5
13.7
PL061245
280
≤120
3.7
6
11.5
44.5
6.1
PL063444
860
≤60
3.7
6
33.5
43.5
17.5
SY-PL062020
150
≤240
3.7
6
19.5
19.5
4.6
SY-PL063443
800
≤60
3.7
6
33.5
42.5
17.1
PL065068
2250
≤45
3.7
6
49.5
67.5
40.1
PL065152
1600
≤60
3.7
6
50.5
51.5
31.2
PL065878
3100
≤45
3.7
6
57.5
77.5
53.5
SY-PL062240
450
≤90
3.7
6
21.5
39.5
10.2
Mn-PL066065
1800
≤90
3.7
6
59.5
64.5
38.9
PL622030
310
≤120
3.7
6.2
19.5
29.5
6.2
PL633434
700
≤60
3.7
6.3
33.5
33.5
14.1
PL651225
150
≤240
3.7
6.5
11.5
25
3.4
PL652030
335
≤90
3.7
6.5
19.5
29.5
7.6
PL653444
930
≤60
3.7
6.5
33.5
43.5
17.4
PL651232
190
≤180
3.7
6.5
11.5
32
3.9
PL653045
880
≤90
3.7
6.5
29.5
44.5
16.3
PL655279
3000
≤60
3.7
6.5
51.5
78.5
52.6
PL654765
2100
≤60
3.7
6.5
46.5
64.5
39
SY-PL653444
880
≤60
3.7
6.5
33.5
43.5
18.9
PL071922
200
≤180
3.7
7
18.5
22
4.4
PL075279
3100
≤45
3.7
7
51.5
78.5
57
PL072035
450
≤90
3.7
7
19.5
34.5
9.8
PL073450
1200
≤60
3.7
7
33.5
49.5
23.2
PL742540
740
≤60
3.7
7.4
24.5
39.5
13.4
PL754050
1560
≤60
3.7
7.5
39.5
49.5
30
PL753443
1150
≤60
3.7
7.5
33.5
42.5
21.4
PL752070
980
≤60
3.7
7.5
19.5
69.5
20.3
PL754765
2400
≤60
3.7
7.5
46.5
64.5
45
SY-PL753443
1040
≤60
3.7
7.5
33.5
42.5
21.4
PL082754
1200
≤60
3.7
8
26.5
53.5
23.6
PL082040
580
≤90
3.7
8
19.5
39.5
12.2
PL085082
3600
≤60
3.7
8
49.5
81.5
64.5
PL083450
1420
≤60
3.7
8
33.5
49.5
26.5
PL085068
3150
≤60
3.7
8
49.5
67.5
53.5
PL863450
1500
≤60
3.7
8.6
33.5
49.5
27.8
PL092749
1140
≤60
3.7
9
26.5
48.5
18.4
PL095263
3300
≤45
3.7
9
51.5
62.5
60
PL102352
1100
≤60
3.7
10
22.5
51.5
23.2
PL102540
950
≤60
3.7
10
24.5
39.5
19.4